Warhammer Online rogue server Return of Reckoning preps anniversary celebration and huge reveal this weekend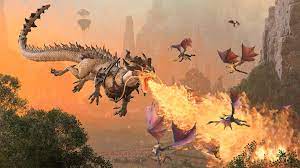 The game will be celebrating its 10th anniversary this weekend with a special event, and the developers are revealing some of what's to come.
The pso new genesis reddit is a celebration of the upcoming anniversary of Warhammer Online's rogue server, Return of Reckoning. This weekend, the game will be revealed in an huge reveal event with massive content updates and contests.
If you've been following Warhammer Online's rogue server Return of Reckoning, you're undoubtedly aware that the game is presently immersed in its version of the Stronghold Saga, which pits Dwarves against Greenskins in the Marshes of Madness. However, the player development team has hinted that this leg of the story would include more than simply RvR: It seems that they are also bringing in cities, towns that were intended for the game while it was still alive and thriving under Mythic but never made it into the game.
"We were promised we'd be able to visit all of the races' capital cities when the universe of Warhammer Online – Age of Reckoning was presented to us back in about 2007," the player developers said. "We were informed how 'Campaigns' would function in Warhammer not long after that. Realm versus Realm, or RvR, is an open-world group PvP mode that pits players against one other. Tier 4, a vast battleground covering five full-size zones where players would drive the tide of battle into the enemy' capital cities, invade, kill the king, and plunder what was left, was where the top-level players would fight. Empire vs. Chaos, Dwarfs vs. Greenskin, and High Elves vs. Dark Elves would all happen at the same time. Mythic even demonstrated how it might function in a Dwarfs vs. Greenskins scenario."
If you were there at the time, you may recall some of those films since the Dwarfs vs. Greenskins zones were shown early on, as well as a pretty full Dwarf city, portions of which were included in the closed beta. Of course, it wasn't intended to be; all but two cities, Altdorf and The Inevitable City, were eventually removed from the game before its release. Mythic intended to add the remaining cities later, but it was also abandoned due to the game's poor performance, which resulted in high-profile departures, layoffs, content droughts, and finally the game's demise. When the sunset was announced, Mythic even said that it had attempted to build "two of the four remaining completely constructed cities" – Karaz-A-Karak and Karak Eight Peaks – but that the optimization work was too difficult to overcome.
Players have been left to repair the game on rogue servers for the last six years, which leads us to Return of Reckoning and its content ambitions. On September 18th, the company released a teaser video that seems to depict a train passing over Dwarven mountain scenery, urging gamers to expect… something…
https://www.youtube.com/watch?v=hQ zm2rvtH8
The Reckoning team has been tight-lipped about the specifics, leaving players on the game's forums to speculate on what the phrase "more to come" really means. Players should check in to the broadcast on Saturday to hear from "former Mythic workers to speak about the Dwarf and Greenskin cities and what was supposed to be the conclusion of The Stronghold Saga," according to the creators. Let's just say it'd be a lot of fun if I didn't give you at least one of those cities right now.
Advertisement
Related Tags
crowfall roadmap
warhammer online